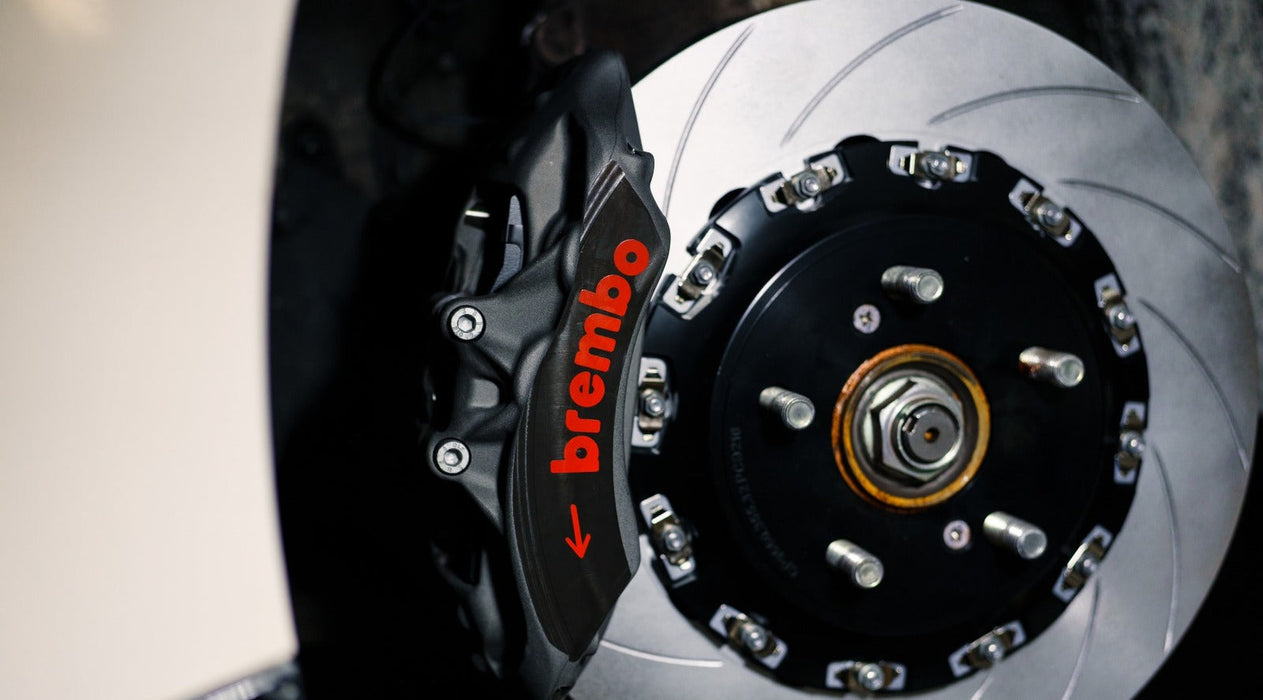 Blitz Custom Competition Big Brake Kit with Brembo Pista FF6 (Front Pista FF6/380mm) Honda Civic Type R (Fk8)
Original price
$5,012.00
-
Original price
$5,240.00
Blitz Performance Custom Competition Big Brake Kit with Brembo Pista FF6 for the front of Honda Civic Type R (Fk8).
Brembo has presented its new PISTA | FF calipers in its UPGRADE catalogue. These are the first members of a new family of racing calipers designed to offer high level performance on the track at an accessible price.​
Brembo has used its extensive experience in racing to create a family of uniquely designed forged calipers which guarantee the strength, light weight and design typically associated with racing. Track days, which involve track driving for owners of high performance cars, have become increasingly popular over the last few years and Brembo has decided to offer a high performing solution that is easy to install to all those who are passionate about beating the stopwatch and want high speeds, faster cornering and, obviously, the best braking response. ​
The new Brembo PISTA | FF calipers have internal ducts that the brake fluid passes through which have been carefully studied to guarantee maximum bleedability of the system; they also have a rapid release system available on request for replacing the pads, as in endurance races, which enables the worn friction material to be replaced quickly and safely without having to remove the caliper from the hub carrier. 
From an aesthetic point of view too, the new calipers in the PISTA| FF family resemble the brake systems that Brembo uses in top racing competitions. They have a forged asymmetric body with a fixed tangential bridge. The quick release can be replaced with fixed elements to increase rigidity in sprint applications. ​
Kit features the following:
Brembo Pista FF6 Forged 6 Pistons Caliper

380x36mm Custom

 

J-Hook Pattern

In-house rotor hub

Custom caliper bracket for Honda Civic Type R (Fk8)

Hard-anodized hub

Fully floating rotors

High heat resistance for long track sessions
Proper piston size for OEM master cylinder and ABS system
Pad tension clips for rattle reduction
Goodridge stainless steel brake lines

Can clear most of 18" aftermarket wheel for your ultimate track setup
Brake pads are NOT included by default because of differences in everyone's preference and usage purposes.
We DO offer several suitable brake pad choices at a DEEP discount if you choose to purchase them together with the brake kit.
This item is a SPECIAL ORDER, it ships from our Toronto location in 2 weeks after order confirmation.
For additional questions about compatibility, brake pad choices, fitment concerns, and anything brake kit-related, please contact us by email at info@blitzperformance.ca.