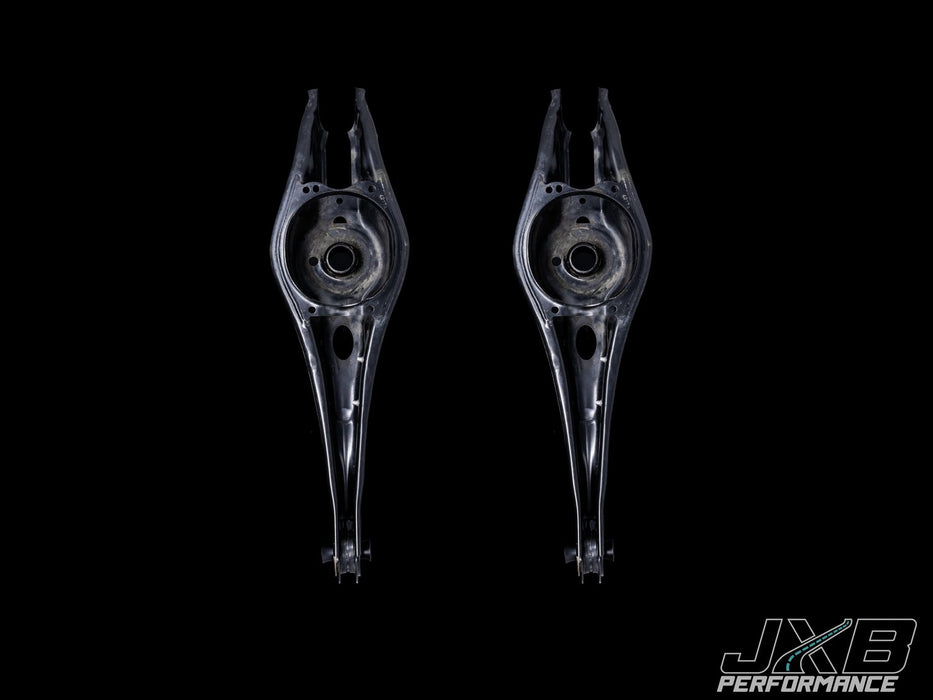 MQB Spherical Rear Lower Control Arm Inner Bushing Upgrade
Original price
$223.00
-
Original price
$272.00
The rear lower control arm bushing works with trailing arm to hold the rear alignment, and transfer cornering forces to the tires. Like the trailing arm bushing, it is extremely flexible under load, causing alignment to vary under acceleration, braking, and cornering and resulting in a lag between driver inputs and vehicle response. The spherical upgrade increases the precision and responsiveness of the rear end:
Inspires more confidence in corners

Delivers better road feel and feedback

Holds alignment under load

Does not bind

Eliminates random oscillations to increase grip
2 spherical rear lower control arm inner bushings with motorsport-grade PTFE-lined spherical bearings
FK WSSX10T bearings are standard, optional upgrade to Aurora PWB-10T bearings

Both options feature a stainless steel ball and race and bonded PTFE liner
The JXB Spherical Rear Lower Control Arm upgrade is designed to be pressed into the factory rear lower control arms. Typically this is done with an H-frame hydraulic press. Don't want to deal with it? We'll press them in for you. We'll send you a pair of factory arms completely assembled with our bushings. Just install them and send us back your original arms for a $225 core refund. Just select the core exchange option.
Note: JXB reserves the right to refuse at its sole discretion any returned core that is not in sellable condition. Conditions that may affect acceptance of core returns include but are limited to excessive surface rust or pitting, mechanical defects (scrapes, dents, stripped holes, etc), and integral ball joints with excessive wear. If you are unsure of the condition of your cores, please send detailed pictures before returning them.
MkVII Volkswagen Golf/GTI/R
8S/8V Audi A3/S3/RS3

8S/8V Audi TT/TTS/TTRS
Rubber bushings act like little springs at each suspension pivot point. They allow suspension geometry to change under load, ruining your alignment and causing unwanted handling characteristics like steering wander, binding, camber, caster, and toe changes, and lack of steering and suspension feedback. Spherical bearings do not bind or flex under load, creating perfect suspension joints.
We use only the highest quality motorsport-grade PTFE-lined bearings for best performance and lifespan. We use high strength 7075 aluminum for the bolt sleeves, and 6061 for the bearing cups. Bearings are interference-fit into the cups, so they won't creak or rattle. Both internal and external retaining rings ensure everything will always stay in place.
Please note that lifespan will vary based on the application and driving conditions. Spherical bearings do have moving parts, so they do wear. Our bearing kits are fully rebuildable. Please contact us for rebuild kits.