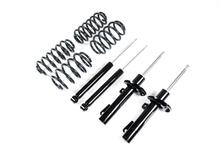 Sport Spring & Damper Kit / MQB Platform FWD: Golf 7 GTI
Original price
$775.00
-
Original price
$775.00
VWR30G7GT
Give your MQB-platform car a whole new lease of life with our Sport Suspension upgrade. We've struck a ride & handling balance that matches the very best thoroughbred German performance cars - tight, perfectly controlled yet unmistakably sporty.
This kit combines the RacingLine Sport Damper kit with our carefully matched Sport Spring kit - combining two front and two rear Tri-Valve dampers with a set of 4 Sport Springs specific to your car type.

The kit will lower your car by around 15-25mm dependant on model, and provide a taught, controlled ride and handling balance.

Ride quality is just how a good hot-hatch should be. A little stiffer than factory, sure, but never crash or uncomfortable.

The addition of Nitrogen gas into the system eliminates oil foaming when the oil is hot, the main cause of shock fade. Our design limits the heat build-up internally ensuring the oil lasts longer.

The shock absorbers have a precisely matched damping curve to the VWR Sport Spring rate which are included with each kit. Compatible with any brand of anti-roll bars.

Longevity far exceeds OEM spec and many rival aftermarket dampers of similar value due to the higher quality oil used in the VWR Sport Dampers.