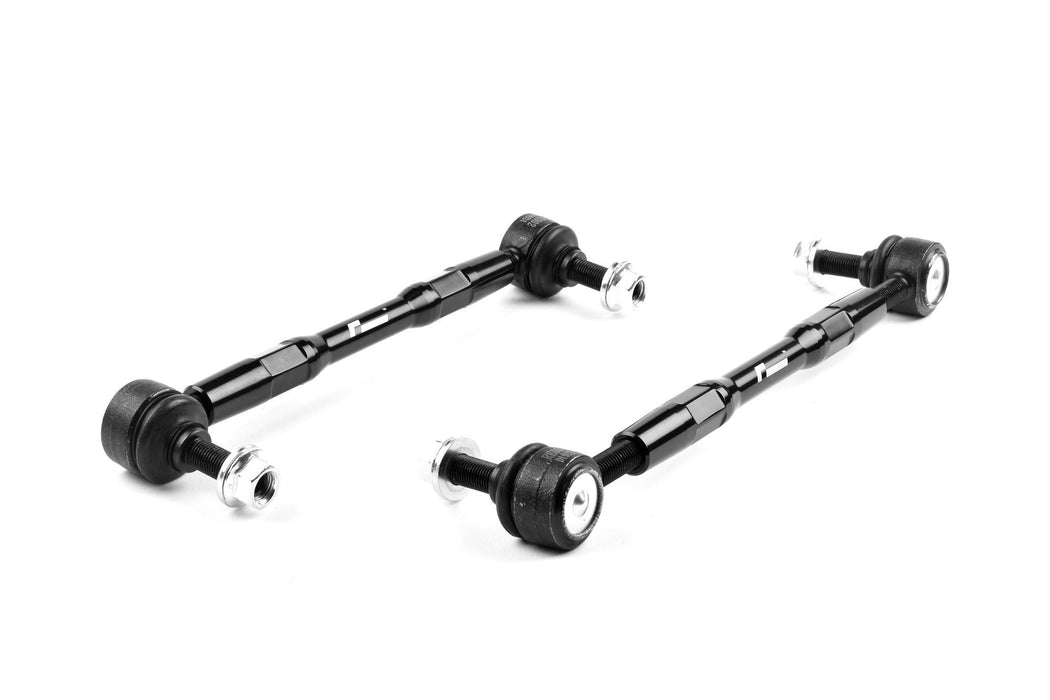 Adjustable Droplinks / 200mm Centre applications (Coilovers / Air Supsension)
Original price
$238.00
-
Original price
$238.00
If you've lowered your car, our Adjustable Drop Links are an essential upgrade to zero the pre-load on your anti-roll bar geometry, plus add stiffness and precision by replacing the stock rubber joints with ball joints.

The drop link attaches the front anti roll bar ends to the front damper.  The OEM links were made the length they are for a reason - to compliment the standard ride height.

But when you lower ride height, the car will now be pulling your anti roll bar ends up, pushing it out of its operating window, and forcing the link to sit at a sharper angle.

Solid, motorsport-spec ball joint ends mean much more direct response when turning in to corners.

These links were developed for our race cars to allow the anti roll bar to work the way it should. Adjusting the height of droplinks to the equivalent of the lowering amount is a must.

30mm of adjustable length to zero preload on the Anti Roll Bar. 

Available in two lengths: 250mm for cars running standard ride height or with lowering springs. Or, 200mm length for cars running lower than this.
Fits:
VW Golf 5 2005-2008 1K
VW Golf 5 GTI & R32 2005-2008 1K
VW Golf 6 2008-2014 5K
VW Golf 6 GTI 2009-2014 5K
VW Golf 6 R 2009-2014 5K
VW Golf 7 2012+ 5G
VW Golf 7 GTI 2013+ 5G
VW Golf 7 R 2013+ 5G

VW Passat 2.0 TSI B8 2015+ 3G
VW Arteon 2.0 TSI 2017+
VW Jetta V GLI 2005-2011 1K
VW Jetta VI GLI 2011+ 1B

Audi A3 2003-2012 8P
Audi S3 2006-2012 8P
Audi A3 2012+ 8V
Audi S3 2013+ 8V
Audi RS3 2015+ 8V
Audi TT II 2006-2014 8J
Audi TTRS II 2009-2014 8J
Audi TT III 2014+ 8S
Audi TTRS III 2015+ 8S